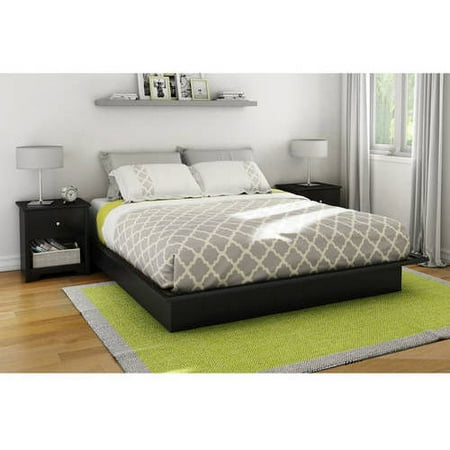 If you have recently decided to renovate your bedroom and want to buy a platform bed to start with it, you must go through this post to get the best ideas.Whether you're looking for the best mattress for platform bed or simply a great platform bed, then this article is useful for you. Platform beds offer a unique and stylish way to update your bedroom and have many advantages. They have a sleek and minimalist design and many people prefer these beds to give their bedrooms the look they want.
Hence, whether you want to have a bedroom with a traditional, contemporary, modern, or stylish look, you can go for a platform bed. There are many benefits of a mattress for a platform bed and in this post, we will discuss all that you should know.
What Is a Platform Bed?
A platform bed has slats in the middle for supporting the mattress and lies low on the ground. A platform bed acts like an old box spring and supports the mattress and the sleeper so that the mattress doesn't move and cause discomfort. This type of bed acts as a base for the mattress, so with it, you don't need a box spring. A platform bed has slats made up of wood or metal and can act as a good foundation for the mattress so that you don't need to buy a box spring separately.
How Sturdy Is a Platform Bed?
A platform bed is sturdy enough to hold as much weight as 4,500 lbs. However, this also depends on the type of platform bed you are going to buy. Every bed has a different design, and the capacity to hold a mattress and sleeper can vary too.
If you are concerned about the capacity of a platform bed before buying it, you must choose one with a flat base. You can also get a separate platform to place on the bed to add additional strength. Always make sure to add the weight of the mattress and the sleepers so that you can evaluate how much weight the slats of the bed should be able to hold.
There are many benefits of a mattress for platform bed and to avail them, you must choose the right mattress after thorough research.
Why Use a Platform Bed?
A platform bed is very handy and affordable too as you don't need to buy a box mattress along with it. These types of beds have a built-in base that include slats for supporting the mattress. Following are the 3 benefits of a mattress for platform bed:
Cost Effectiveness
When you go to buy a mattress, you try to get the best one in the most affordable price. However, some beds require a box spring or foundation to be bought along with them for additional support. If you have a platform bed, you don't need to spend on these extra items as the foundation is already there.
Better Support and Compact Design
A mattress when placed on a platform bed supports the body in a better way and, thus, offers a more comfortable sleep to the user. If you have sleeping disorders or are not sleeping peacefully throughout the night, it might be possible that your bed is now too old to bear your and your mattress's weight. A modern and sturdy platform bed consists of strong slats that provide good support to the user as compared to other beds.
A platform bed also has a compact design and holds a mattress very well. These days, there are platform beds that have enough space beneath them so that you can keep things under them or install drawers to keep your clothes or other accessories. The overall design of a platform bed is very compact too. If you have a crowded bedroom, the best way to save space is by using a platform bed.
Variety
Platform beds are available in a variety of styles and designs, and almost all types of mattresses can fit on them. Whether you have an innerspring mattress or a foam mattress, it will fit easily on the platform bed. It has different styles, so you can choose the one that goes well with your home décor.