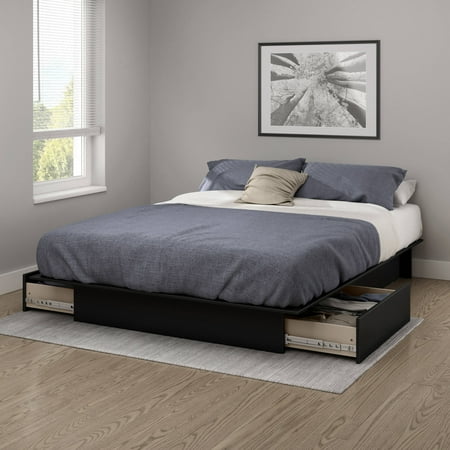 A platform bed is one which eliminates the need for a box spring to support the bed. It consists of slats that make a good support system and can hold the mattress properly to offer a better sleep. If you have a platform bed, you might be worried about choosing a mattress for it.
Choosing a mattress for a platform bed requires some considerations, and it is necessary to look for some necessary factors. To get the best mattress for platform bed, you must first understand how a platform bed is different from other regular ones.
Difference Between a Platform Bed and a Regular Bed
There are many differences between a platform bed and other beds. For instance, a Box spring bed increases the height of the mattress as the mattress is placed on a box spring. The box spring rests on the foundation of the bed and keeps the mattress from moving. However, a platform bed has a built-in base or foundation and there is no need to have any additional support for a mattress.
A regular bed has no storage beneath it, but a platform bed consists of built-in drawers and other storage compartments.
Also, platform beds require very less bedding and the mattress can be easily dressed with a sheet or comforter. However, a mattress on a regular bed needs a skirt to be properly sealed.
Things to Look for Before Buying a Mattress for a Platform Bed
If you are wondering what to consider before buying a mattress for platform bed, you are in the right place as we have gathered a list of the necessary factors to look for. There are different types of platform beds available, and it is necessary to choose a mattress that suits the style and design of a platform bed. If you end up buying the wrong mattress, it will not fit on the platform bed properly. Following are the factors to consider:
Support
A good mattress should be able to sit smoothly and properly on a platform bed. The foundation of a platform bed is designed specifically for the mattress to fit in properly and there are no gaps or spaces left at the corners. Hence, you should first measure the bed frame and go for a mattress that can easily fit on it. It is necessary to choose a good mattress for a platform bed because if the foundation is not suitable for the mattress, it can lead to quick wear and tear of the mattress.
Weight
Another thing to consider is the weight of the mattress. Make sure that your platform bed is sturdy enough and has the capacity to hold the weight of your mattress and the sleepers. If the base of the platform bed is not able to hold the weight of the mattress, the mattress will start deforming and will show signs of sagging and compression. Before buying a mattress, you must make sure that the bed can easily bear the weight of the mattress.
Comfort
Comfort is another important factor to look for in a mattress for a platform bed. Mattresses are available in different comfort levels, so it is necessary to decide which level of comfort is preferred by you. You can read the reviews of a particular mattress before buying it, and be sure to lie down on it for a few minutes so that you can decide on the comfort level. If a mattress is not comfortable, your platform bed will not be able to help you sleep peacefully throughout the night.
Height
You should look for a mattress that doesn't go deep inside the platform bed when placed on it. For this, you should consider a mattress of good and acceptable height. Since there will be no box spring to add to the height of the mattress, you should make sure that the mattress has a good height and is comfortable too.
Warranty
If you are going to buy a mattress that is not recommended for your platform bed but may be very comfortable, an idea is to choose the one with a long warranty period. This way you can try sleeping on the bed and make sure it is suitable for you or else return it if there are some issues.